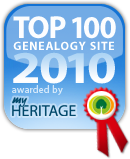 Before My Time
found itself amid some very esteemed company this month when it was included on a list of MyHeritage.com's Top 100 Genealogy Sites. A click on the ribbon above will take you to the list, where you'll find many of the excellent blogs that I read regularly. And I've had a great time the past couple of weeks visiting the ones I was unfamiliar with. The variety of topics and approaches is without limit. If you're interested in genealogy and family history, you're sure to find sites you'll want to visit and revisit. (Don't overlook the
MyHeritage Blog
itself!)
In the course of looking up some stuff for my
Surname: Russell
post, I discovered
Geneall.net
. While poking around the freely accessible portion of the site, I found something that blew my genealogical socks off. There appears to be a branch in my family tree which is hung heavily with dukes and earls and such, along with historical characters of mythical proportions--William the Conqueror, King Henry II and Eleonore d'Aquitaine, Charlemagne--and many more kings and queens of various and sundry countries that I've never heard of. (As you surely know by now, I'm not a history buff. Sort of.). Although I've been ruminating royally all month, I find it's more than I want to get into here. I'll be posting some thoughts on this subject June 5th. Please come back to read them, especially if you've discovered royalty in the branches of your own family tree, but even if you haven't. I have questions and will be eager to hear your thoughts.
At ShawGenealogy, Jen's excellent series of posts on
The Genealogical Proof Standard
was one of the excellent entries in this month's
Carnival of Genealogy
. The topic was "How-To Series" and I rank it among the best-ever COGs. So much to learn, so many outstanding geneabloggers to learn from!
Jen's how-to series was good grounding for
Evidence Management Explained
by The Ancestry Insider. Although I fall solidly (probably with a thud!) into the "hobbyist" camp when it comes to genealogy, I do wish to be barking up the right family tree, so to speak. And, as I've been gathering evidence for more than twenty years in hopes of ending up with a preponderance, but not being quite organized enough to pull it all together into a proof, I'd love being able to produce spreadsheet reports from my Legacy database like the ones in that post. Until that's possible, Insider's explanation gives me a more organized way to think things through. I found the comments interesting also.
------------
May Accomplishments
I read two books. Not just any two, mind you, but history books! And found them interesting!
Daily posts, three months in a row! Zowie!
Posted some unrelated memorial cards at Find-A-Grave.

Created my first book using Blurb and the content of my first (non-genealogy) blog. I couldn't be happier with the end product. The quality of materials and workmanship way outshines the humble content which, surrounded by all that glow, looks a lot better than it is! The Blurb software was reasonably easy to work with after reading the instructions, but I was glad I chose a 'starter' project to learn on. I have a much better foundation now for planning a more elaborate project about family history.

And in the other column . . .
I was disappointed to find nary a soul named Buss in the microfilms I'd ordered based on what I thought might be the correct place name, nor did my cousin Mary find any in the microfilms she'd ordered from a nearby parish. We're now reviewing her results from prior searching in another area where she found lots of Busses, many with first names similar to the ones in our tree, and with dates in a similar timeframe. But none of them quite fit!
Again this month I neglected to add newfound names to my Legacy database. (Charlemagne, indeed...)